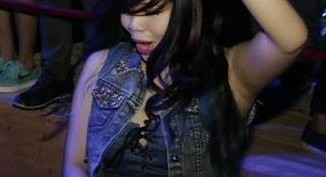 DJ CHIYO
She currently lives in manila, and is the youngest amongst the group.
Has 2 shows #Mondays(10pm – 12mn MNL TIME) where she goes random on the songs and picks out the topic of the night by picking out random questions from her listeners via twitter or facebook. Also has a show called EDM FRIDAYS(7PM-9PM MNL time) where she plays nothing but EDM and also gives out some inside scoops/trivia's about the night life and EDM scene.
She's very friendly, fun and outgoing, loves to attend rave/music festivals. You can also catch her gig/spin on some places around the metro, she's also the resident DJ of Kangaroo Jack's Araneta which is located at Cubao. Follow her @heydjchi at twitter.com, hey_its_chiyo @ instagram and Chiyo Cajili @ facebook.com .